Modi and Ma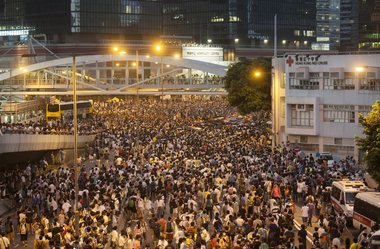 The last 2 weeks were notable for the world's two most populous countries. If there was any doubt that the 21st century will be "The Asian Century" Jack Ma and Narendra Modi, an unlikely pair, lay those doubts to rest. On September 19, Ma led Alibaba to the largest IPO in history, listing the company on the New York Stock Exchange. This past May, Modi was elected Prime Minister of India in a historic election. Today, he gave a speech to a crowd of 20,000 at Madision Square Garden, outlining steps he is taking to cut bureaucratic red tape and encourage the Indian diaspora to invest back into India. Ironically, today, while Modi, leader of the world's largest and most complex democracy, gave this speech, China violently cracked down on pro-democracy protestors in Hong Kong.
For years, China has been the darling of the international investment community. The world has watched government policies and infrastructure spur unprecedented economic growth – from 1978-2013, China's economy grew at an average of 9.5% a year. The controlled decentralization of major industries has been dubbed a "socialist market" movement. This environment allowed Jack Ma, founder of Chinese e-commerce giant Alibaba, to build a modern day conglomerate: an Internet platform providing commerce, entertainment and financial services to a middle class that numbers over 300 million (and expected to reach nearly 1 billion in the next 20 years). As a child he rode his bike 45 minutes to talk to foreigners at a hotel so he could learn English. This hustle is familiar to entrepreneurs worldwide. The difference is that China and India will be home to almost half of the world's human capital by 2050. Given current trajectories, these people will be increasingly educated and have greater connectivity than ever — and will by default be the source of much of the world's future innovation. This populace will also have a pent-up demand for goods and services, and an on-the-ground familiarity of market opportunities in these markets.
Enter Modi. In contrast to China, India has had many fits and starts with economic liberalization and has to date failed to channel its potential due to government policies that have discouraged foreign investment. Those not familiar with the culture are also often overwhelmed with the chaos of India and have preferred investing in China, a place where infrastructure more closely resembles (and often surpasses) the West's. However, Modi's election could be a turning point. In 2030, India is expected to surpass China in population. Due to its one child policy, China has an aging population whereas India, along with SE Asia and Africa, have significant populations below the age of 35. Days before his US visit, India announced that its space program had successfully launched a spacecraft into Mars orbit for only $74M, or 11% of what a similar mission cost the US. Or, as he pointed out in his speech today, 7 Rupees (11 cents) a kilometer. This epitomizes the concept of Jugaad, or innovation spurred by resource scarcity. Moreover, India "beat" China to Mars. While some may question resources spent on a space program in a country saddled with poverty, no doubt this accomplishment spurred national pride and inspiration similar to the impact of the US's mission to the moon in 1969. One of the most Modi, who won in a landslide election with a clear mandate for economic reform (despite controversy surrounding his role in sectarian riots in 2002), is fully aware of the lofty expectations of those he governs. Like Ma, he comes from humble beginnings (he was born to a tea seller in a poor rural family). And like Ma, he is a charismatic leader who looks poised to seize opportunity at a unique point in time.
Both of these countries have immense challenges and opportunities, and will play a crucial role in the future of our world. These countries could not be more different in many of their policies and path to this point in time, but I hope their leaders will rise to the occasion. Women's rights, equal access to education, environmental concerns, worker safety and broad economic opportunity are all essential to ensure a future of economic growth and stability for all of us. I think back to another rousing speech, entitled Tryst with Destiny, from India's first Prime Minister Jawarharlal Nehru, upon India's independence in 1947:
"At the stroke of the midnight hour, when the world sleeps, India will awake to life and freedom. A moment comes, which comes but rarely in history, when we step out from the old to the new, when an age ends, and when the soul of a nation, long suppressed, finds utterance. It is fitting that at this solemn moment we take the pledge of dedication to the service of India and her people and to the still larger cause of humanity."
We need this dedication now more than ever.