Drinking from a Firehose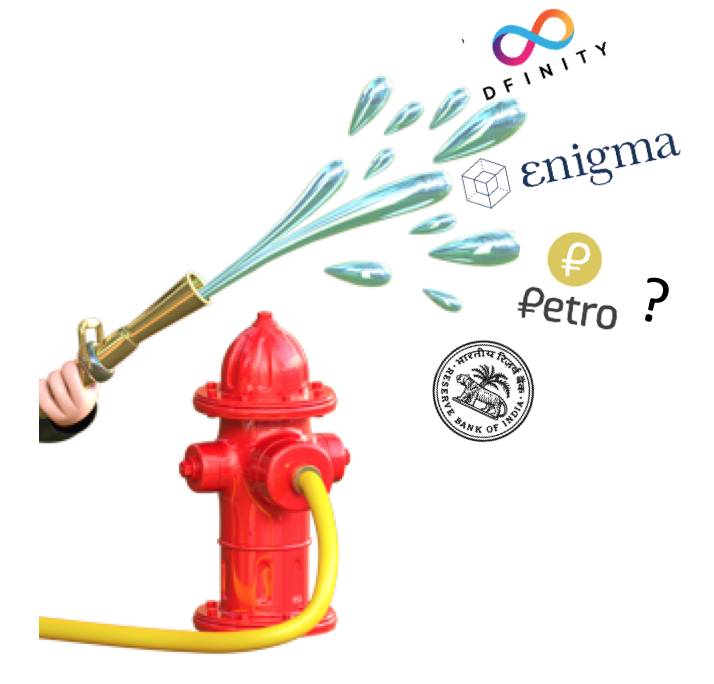 The pace of news announcements over the last week shows the blockchain sector hasn't received the August doldrums memo. Overall crypto markets improved, with Bitcoin hovering near $7000. Many other cryptocurrencies have seen more modest recoveries. NEO, often touted as China's Ethereum, ends August with a 40% decline, the worst performing "large cap" currency of the month.
Behind the scenes, we've seen much development progress. Filecoin, which had one of the largest ICOs of 2017, published its quarterly update with its first demos. The World Bank exceeded its $73M target for its first blockchain settled bond, raising $81M from investors that included Northern Trust. Enigma, which spun out of MIT and raised a $45M ICO last year, announced 8 launch partners for its encrypted "secret contracts" platform. Privacy is one of the hot topics in the cryptocurrency world, with several different approaches including Monero, ZCash and Blockstream's Confidential Transactions. I'm watching the Enigma effort closely.
I wrote about Venezuela's new economic policy in last week's newsletter. Yesterday, Reuters published a great investigative piece entitled " Venezuela's New Cryptocurrency is Nowhere to be Found ". While President Maduro continues to mandate that banks accept the Petro cryptocurrency and that its new currency be pegged to the Petro, no one seems to know if the cryptocurrency actually exists. Meanwhile peer to peer exchanges such as Localbitcoins have reported spiking volume over the past week as Venezuelans look to offload Bolivars for Bitcoin. Interestingly, Satis, a blockchain advisory firm, published a report this past week (link below) that predicts offshore markets for cryptocurrency will be main drivers of crypto market growth, citing a loss of confidence in government monetary policy around the world.
The Reserve Bank of India, which has been in the headlines for cracking down on cryptocurrency trading, cited concern this week over the move to peer-to-peer trading after it banned bank accounts from being linked to crypto accounts. This is an acknowledgement (which has proven out across the world) that bans do not stop crypto activity — that there is a pent up demand for access to financial capital and control over that financial capital. In its annual report issued this week, the RBI also noted it is exploring the issuance of digital currency to save costs related printing paper money. While distinct from blockchain based digital currency, this shows that digitization may finally be coming to age-old fiat, particularly in regions of the world that have low credit card penetration and high cash usage.
To cap off the news, this morning Ethereum developers approved upgrades for the much awaited Constantinople release in October (links below for more detail). Dfinity, an ambitious new protocol for blockchain based cloud computing, raised over $100M in pre-sale funding from Silicon Valley investors including a16z Crypto. Huobi, the world's third-largest crypto exchange, acquired a public company ahead of what many think will be a reverse public listing on the Hong Kong stock exchange. Huobi's venture capital arm also recently funded Terra, a Singapore-based company that is developing stablecoin technology to better allow cryptocurrencies to be used in ecommerce, targeting Asian economies first.
As we near the end of Q3, all of these announcements and fundings point to an exciting 2019 — a year that is shaping up to be a reckoning for many early crypto projects. The Economist published a piece yesterday " Bitcoin and Other Cryptocurrencies are Useless " — offering a challenge to the sector to prove the naysayers wrong. While the article does have valid points, including the proliferation of speculators in the crypto markets, it is taking a very short term perspective on a technology that has long term promise. The writer would have probably written a similar piece about the internet in 2000.