Bitcoin at $10K – The Beginning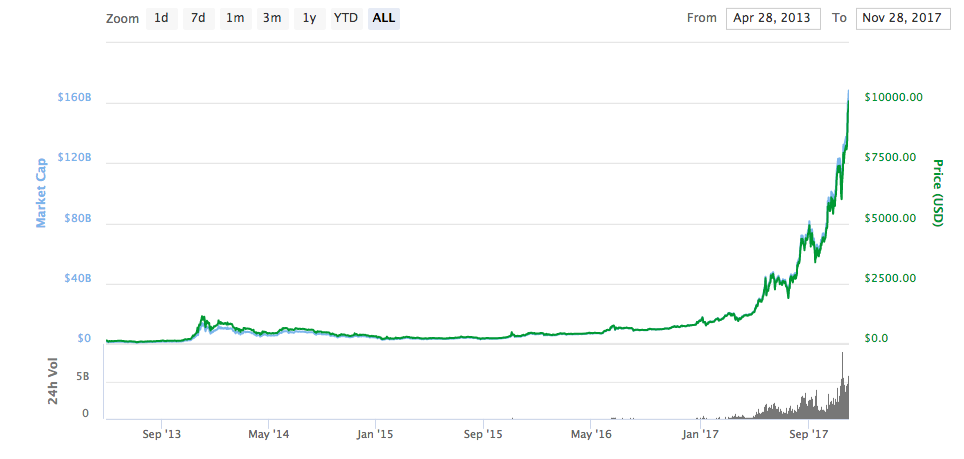 The price of bitcoin reached $10K earlier today.  Over the years I have seen a significant change in conversations around virtual currencies ("it's for drug dealers!"; "there's no underlying asset!"; "it's a fraud!" to "how do I buy bitcoin"?;"can you help me look at this ICO?") and we are no doubt at the cusp of more widespread acceptance of the concept.  It's important to note that a fair amount of the recent capital in the market is driven by speculation from the astronomical returns that cryptocurrencies have achieved in 2017, and a "fear of missing out" (FOMO).  True alpha returns have been difficult to achieve in the globally low interest rate environment and softening of many real estate markets, all factors that have been fuel for cryptocurrency market cap growth.  Many of these investors have not experienced the price volatility many earlier investors have, and it remains to be seen how a significant shock to the market will be handled by these investors. However, there are other, newer investors who are believers in the concept of a more decentralized transaction system, particularly in light of  increased cybersecurity risks, as well as widespread geopolitical uncertainty.  Additionally, many early investors in bitcoin and ethereum have either held or reinvested profits into other cryptocurrencies.
I believe that cryptocurrencies (which are built on blockchain tech) emerging as an asset class are just one application of blockchain technology.  Bitcoin at $10K and a cryptocurrency combined market cap of $300B is only an introduction to what the underlying technology means in terms of value creation.
I went to my first bitcoin conference in 2013.  I knew that decentralized technology would form the thesis of the new venture capital fund I was launching, and I was interested in learning more how bitcoin would contribute to the thesis.  That conference reminded me of the first time I logged into the Internet in 1994 – I literally got goosebumps thinking of how revolutionary the technology could be.
I bought my first bitcoins after Mt. Gox imploded and China first shut down bitcoin exchanges in April 2014, when the price hovered around $400.  Early in 2014, I launched Future\Perfect Ventures, an early stage venture fund, to invest in the infrastructure and early use cases around blockchain and other decentralized technology.  While similar to the Internet in many ways, I viewed the buildout and new business models that would emerge as exponentially larger in potential.  For the first time, we have a truly global technology revolution on our hands, fueled by smartphones, sensors and blockchain tech. In 2000, there were only 415M internet users in the world, only 8% of which were in developing markets.  By 2017, the number of internet users had grown to 3.9B, 40% of which are now in those same developed markets.  Imagine what will happen when the next 3 billion people come online and the opportunities for value creation that will follow – particularly in markets where there is no legacy infrastructure in place and decentralized technology can leapfrog financial institutions, real estate, capital markets, identity platforms (and more) as we know them in the developed world.
I broke down the first fund's investment thesis into 4 categories that I believed represented opportunity in the first phase of the technology:  infrastructure (eg, Blockchain the wallet); emerging market use cases (including payments eg Abra); enterprise migration (including supply chain management eg Everledger); and identity management (eg Civic).  Our second fund builds on these areas as we see new protocols and applications continue to emerge, with the added thesis of tokens as a new asset class.
The combined market cap of Google, Amazon, Apple, Facebook, and Microsoft is now at $3.4 trillion.  Given the inherently global, accessible and nonlinear nature of decentralized technology, I would not be surprised if we quickly exceeded this number.  We at Future\Perfect Ventures are excited to continue partnering with entrepreneurs and investors into the next phase of the market buildout –  and we can live in a world of value creation by, and for, all 7 billion people in the world.