A Glimpse: My American Dream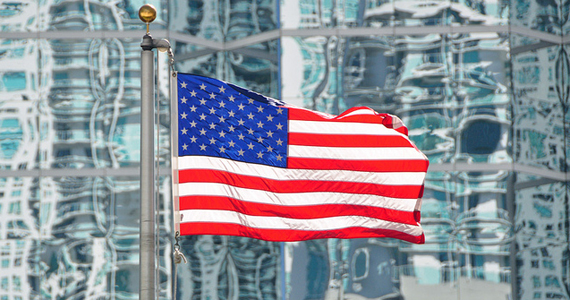 When I looked at my inbox this morning, I had emails from six organizations I have advised/worked with over the past couple of years (including Astia and Techstars) announcing their partnership with the White House's Startup America initiative. And, lest I for a moment forgot that I am living the American dream, thanks to parents who left a life that they loved to give me an even better one, it was once again etched in my mind.
It seems like yesterday (although it was 1989!) I wrote my applications to college, or rather typed them on a typewriter with a bottle of WhiteOut close by. The essays were a breeze…I wrote about how I had seen the positive impact of communication technologies (at the time, radio and television) in remote villages throughout my trips back to Africa and India, and how I wanted to be a part of bringing that connectivity to everyone in the world, as a means of creating better education opportunities, livelihoods and understanding amongst each other.
I vividly remember the prejudice my parents, my brother and I faced when moving into our very nondiverse neighborhood in NJ in 1976 and how they won over the neighbors with grace and patience (and inviting them over for delicious Diwali dinners, still my secret weapon). How my 5th grade classmates thought I was Native American and that I was making up stories when I returned (from my teepee, possibly?) from a trip to India and spoke of places with pigs and cows roaming around and no plumbing. It didn't help that I was vegetarian (wait, didn't Indians eat turkey…oh wait) and spoke a weird language to my brother at the bus stop.
I wanted to be a writer and I thought that I would show them all with words. I wrote a biography of Mahatma Gandhi when I was 10, which was locally published. I wrote of his strength of character and the concept of ahimsa (a word etched on a ring I wear every day), nonviolence. How the power of ideas and resolute minds could conquer brute strength and physical weapons. But those were quaint ideas in the midst of an escalating cold war, for it was apparently different when the US was fighting the Soviet Union. I was just a brown little immigrant girl who couldn't understand those complicated matters. But I did write a letter to Indira Gandhi, then prime minister of India, in 1982 before my first trip there. I told her how much I admired seeing a woman lead such a big country, and she, via her aides, invited me to meet her at the Presidential quarters in Delhi when we went there. This no doubt amused my parents who had told me to write her the letter as they were tired of me reciting all the reasons why I thought she was such a cool woman (now her economic policies…that's another matter now that I know better!)
I was also the only girl in honors algebra and physics classes. But ever the fashionista, in my cool Jordache jeans, Jersey girl hair and flourescent pink legwarmers (it was the '80s after all, but luckily I haven't succumbed to the '80s fashion revival after having lived it all too fully back then). And when many of the other girls went to cheerleading practice or hung out at the mall I retreated to edit the yearbook or paper, or several hours of ballet class (until the age of 16 I was on track to become a professional ballet dancer, auditioning for the School of American Ballet in NYC…how many VCs can say that?)
I was always acutely aware of how fortunate I was to have the opportunities, love, support and access to education that I had. And how much of it was based on luck, and how I could easily have been that child in an orphanage in India. Yes I was gifted with talents but so are EACH of us, including the millions, billions of others who were just unlucky to be born in different circumstances. When I was in high school, a classmate and I started a peer mentoring program for our middle school which has grown and flourished. I learned how easy, and satisfying, it was to give back…not with money but with time, expertise and care (which is often much more valuable and rare).
Fast forward to junior year of college, being told by a well-intentioned career services counselor that I should consider changing my name because recruiters were less likely to call me since they wouldn't be able to pronounce my name, that we were in the middle of a recession in 1993 and it was competitive out there (I think things turned out OK for me). I didn't listen as I didn't want to work with anyone that was intimidated by a NAME of all of things. Jalak means glimpse and is a word in Hindi (it's not a traditional name) and has provided much entertainment to taxi drivers in Mumbai, camel drivers in the Rajasthani desert and countless others. I often think of all the times I was encouraged to conform when I come across entrepreneurs who are told that their ideas won't work. But being different, or thinking differently (either from circumstance or choice), allows you to experience things from a vantage point others don't have. Conforming will give you the status quo. It is only when you break out of this that innovation and creativity flourish. People ask me if innovation can flourish in places like Africa and my response is that I encounter innovation everywhere there, when people are forced to innovate to survive, often with scarce resources.
I won't bore you with the rest now, but there are fun stories of launching an online startup in NYC in 1997, learning to code (which indulged both my creative and analytical sides), parties (OK, one party) with Mick Jagger in London in 1995, a summer without plumbing traveling around Tanzania training women entrepreneurs (the opposite of said party with Mick Jagger in London), starting my venture career in 1999 in Silicon Valley, traveling around the world on my own (during which I was in Burma when the protests started in 1997), an impromptu trip into the Congo to see the devastation firsthand two years ago when I was in Rwanda, my year off in 2003 from VC to learn more about education reform by consulting on replication strategy for charter schools, working on a business plan in 1995 for a video-on-demand startup whose founder was way ahead of his time, and my time living in a frat house at UC Boulder while mentoring for the Unreasonable Institute (actually just last summer). And then there are all the dating anecdotes from my six years in NYC (but that's a very entertaining book and I'm digressing).
Now, the present. I have just started a new job with the Omidyar Network. At the Clinton Global Initiative last September, Pierre Omidyar, co-founder of eBay, announced a commitment from his philanthrocapitalist firm to invest millions of dollars in mobile applications and services, with a focus on developing markets globally. He founded eBay to empower individuals through the use of new technology, and has created livelihoods for millions of individuals throughout the world. eBay is likely the most efficient "accelerator" to have existed to date. And now the mobile phone is empowering individuals at an unprecedented and accelerating rate. These devices are providing connectivity of the scale I hadn't even imagined when I wrote my college essays. And I get to lead this effort in a world very different than the one I grew up in just a few decades ago. I feel incredibly lucky, to work with an extraordinary group of individuals who are passionate about innovation (in all forms, in business models, funding structures and technology) AND I get to meet inspiring, brilliant entrepreneurs every day. While I spent the past three incredibly fulfilling and fun years helping build the tech entrepreneurship sector in NYC, which is now thriving wonderfully (but wasn't in 2008!), this is a unique role, in a unique time, for me to combine so many passions, from tech to education to investing to entrepreneurship to emerging markets to policy. I have the opportunity to build bridges from NYC to Nairobi, from Dhaka to Denver, from Silicon Valley to Singapore. At the end of the day, an entrepreneur, a person trying to build a better life for herself or himself, is the same in New Orleans as NYC as Yangon as Palo Alto as Dar es Salaam, although their individual circumstances differ. TRUE innovation is not a zero sum game. And especially in today's world we need to empower every individual, harness every talent, in every corner of the globe. And learn from each other. It could be the little girl in Iraq who grows up to be a scientist that makes the discovery which will one day save an American life. Or the boy in Detroit who becomes a software developer and creates an app to educate a child in the slums of Brazil. This is MY American dream…and I applaud the administration, including my good friend and US CTO Aneesh Chopra, and all the organizations taking part in Startup America for highlighting and enabling the promise that exists in each individual.